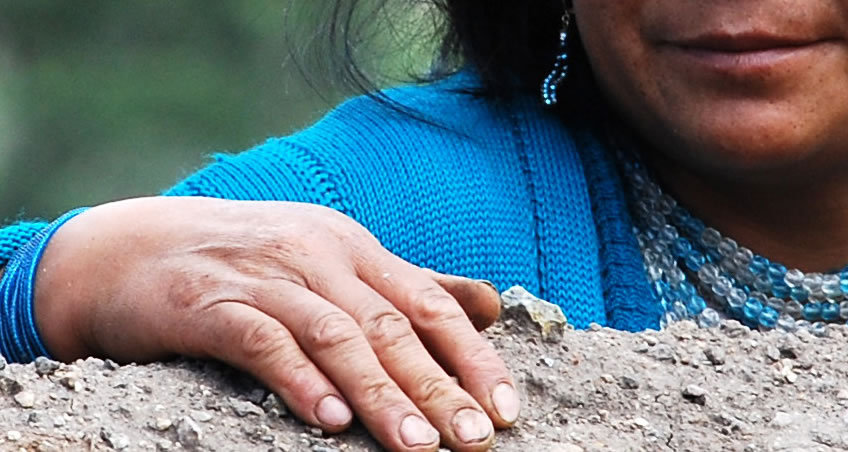 Mission Statement
Most mining projects in Latin America are located on rural and indigenous land. The impact of mining on traditional communities is immense, and yet it is often ignored that women carry the greatest burden. Silently they witness how their livelihoods are adversely affected by the systematic and irreversible destruction of the land they depend on, whilst their children's health deteriorates as a result of air and water contamination.
Women's disempowerment is aggravated by cultural perceptions that mining is a "male activity" and so there is no reason for their participation or consultation on mining and development issues. The result is that women's concerns are practically invisible to government and corporations who hold the power to promote and exploit natural resources.
Despite these formidable barriers, there are women activists prepared to take a stand and challenge corporations to become accountable and uphold international standards. Their determination and courage is as extraordinary as it is dangerous. Their gender, ethnic background and social exclusion make them vulnerable to attacks.
Mission
LAMMP aims to inspire leadership among rural and indigenous women, affected by irresponsible and destructive development activities including in the areas of natural resource extraction. We believe that rural and indigenous women are among the world's most excluded peoples, and are confronted with a number of barriers that exclude them from decision-making processes that make them poorer and expose them further to risks and vulnerabilities.
Guided by the needs of the women themselves, LAMMP aspires to provide them with the skills, knowledge financial and technical resources to act upon development on their own terms and to overcome the barriers preventing them from being full citizens. To achieve this mission, LAMMP works closely with rural and indigenous women in affected communities in the following areas:
Protection: LAMMP has pioneered and implemented a comprehensive protection programme for women human rights defenders and activists at risk

Advocacy: LAMMP works to enhance the voices of the women themselves, providing them with opportunities for direct political representation at local, national, regional and international level, connecting them with wider support networks

Strengthening of women's movement through the facilitation of small grants for training, capacity building and raising awareness of the negative impacts of resource extraction

Research on issues that impact on women in the areas of large-scale development, including increased violence as well as health and psychological impacts.
Vision
LAMMP's vision is a world where women adversely affected by large-scale development in Latin America have an equal voice in the defence of their rights, land and resources, and realise their aspirations for peaceful communities. For us, rural and indigenous women emerging as defenders of land and territory are heroines who, against all odds, have secured their communities' trust, mobilised public sympathy for their campaigns and achieved outstanding results as conservationists and defenders of their individual and collective rights.
Core Values
Transparency
We are committed to total transparency in all our actions vis à vis the women we support and in all transactions we carry out on their behalf.
Democracy
We are committed to an open, democratic process for our decisions
Women's rights are human rights
We are committed to the defence of women's rights, which are the rights of every human being. The right to:
freedom of speech, expression and assembly

equality in law

to live with dignity

to live without fear of abuse, violence or persecution

to legal redress
Environmental Protection
We are committed to defending the planet in order to safeguard rural and indigenous communities from the harmful impacts of water pollution, deforestation and land-grabbing carried out by large-scale development initiatives.
Social Justice
We are committed to social justice and equality, promoting the rights of women from some of the world's most marginalised communities.