Peru prosecutor prosecuted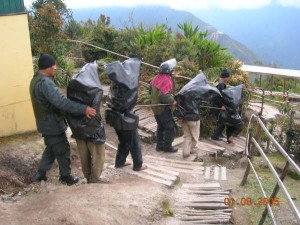 On the 9th of November 2012 the former public prosecutor of Huancabamba, Lorenzo Félix Toledo Leyva, was tried in the city of Piura on charges of failing to report instances of torture in the case of 28 peasant farmers held prisoner at a mining camp belonging to Rio Blanco Copper S.A. (formerly Majaz S.A.) in 2005.
At the beginning of August that year a group of around 5,000 peasant farmers were on their way to negotiations with Rio Blanco when they were ambushed by members of the national police force, officials and workers from the mining company, and guards from the private security firm Forza. The attackers captured 28 farmers, including two women, and took them to the mining camp. For three days the farmers were forced to remain seated and shackled back-to-back without being able to move. During that time they were subjected to verbal abuse and torture. Former public prosecutor Toledo Leyva was invited to inspect the conditions under which the farmers were being held and to verify whether or not they had been mistreated. During his inspection Toledo Leyva spoke to one of the women, Elizabeth Cunya. He could see that she had been badly beaten and was very frightened. Despite this and while still standing in front of Elizabeth, he signed her off as being unharmed. He then wilfully neglected to file a criminal report about the abuses and torture endured by the farmers at the Rio Blanco mining camp. In the court, Toledo Leyva waived his right to an oral trial. The prosecution asked that he be jailed for four years and required to pay 10,000 soles in civil compensation to the State.
Elizabeth Cunya was left severely traumatised by her ordeal in 2005. This is what she says today about the trial:
'I felt much anxiety seeing the public prosecutor arrive. They brought him handcuffed from the prison, my feelings were mixed on seeing him again. He didn't want an oral trial and accepted the judgement, which sentenced him to a minimum term of three years suspended sentence and the payment of 6,000 soles in civil compensation to the Peruvian State. It's significant progress that this scoundrel has acknowledged his guilt for failing to report the crimes committed. Now I feel that the air is a bit cleaner, what happened this week is so comforting, it fills us with strength and courage, and the desire to carry on.'
 -   Diana Mills