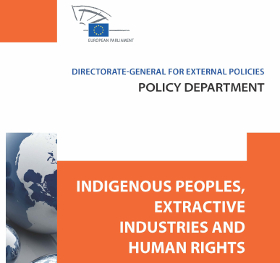 Prof. Julian Burger from the University of Essex carried out an in-depth analysis on the human rights impacts of the extractive industries on indigenous peoples worldwide. This paper, commissioned by Policy Department of the Directorate-General for External Policies of the European Parliament, argues that growing demands for non-renewable resources risk impinging further on the rights of indigenous communities, "the paper acknowledges the major efforts being made by industry associations to address these issues through voluntary guidelines but finds that, notwithstanding, conflicts and violence persist and that further measures are required to protect the rights and interests of indigenous peoples."
It also offers some critical recommendations to the European Union to develop a regional framework that sanctions companies and provides remedy in cases where indigenous peoples experience human rights violations.
The complete report is available here.