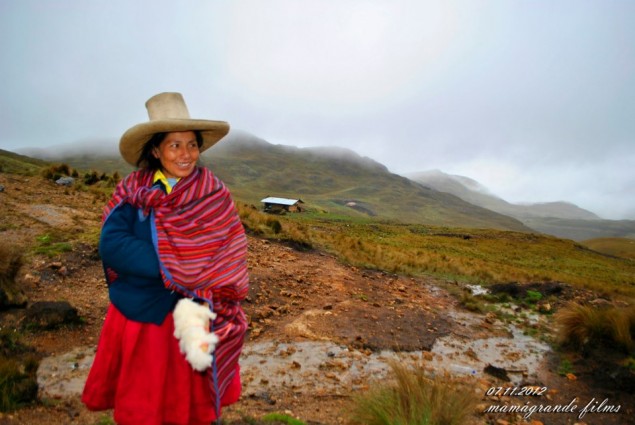 Máxima Acuña de Chaupe is an Andean Indigenous woman who lives with her family in Tragadero Grande, a land-based community high in the hills of the Sorochuco district, in the department of Cajamarca, Northern Peru. As a subsistence farmer, she survives cultivating home-grown crops, tending farm animals and producing traditional garments she would then sell in local markets in the main town of Celendín, a three hour journey away from her home.
Since 2011, her entire livelihood and well-being have been threatened by Yanacocha's Conga mine project as a result of an endless dispute over land-ownership. According to the company, the land on which Máxima and her family live and rely on, is located within the mining concession and, as a result, Ms. Acuña and her family have lived in constant fear of attacks and of attempted forced evictions.
The Conga is thought to be Peru's largest mining investment (over $5 billion), seeking to extract 500,000 ounces of gold per year, and 54,000 ounces of copper over a project area of 3,000 hectares of land. The mine is operated by Yanacocha S.R.L., jointly owned by the US-based Newmont Mining Corporation (51.35%), its Peruvian Subsidiary (43.65%) and the International Finance Corporation (IFC-5%), the lending arm of the World Bank.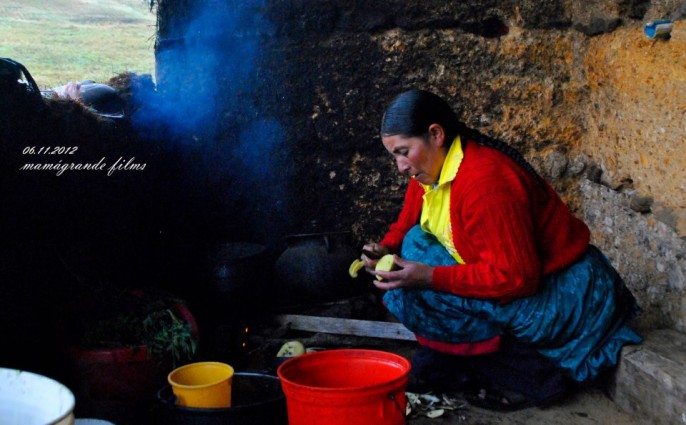 Experiences of hardship:
Yanacocha's orchestrated attacks against Máxima and her family began in May 2011, when engineers from the mine, accompanied by police agents of the Division of Special Operations of the Peruvian National Police (DINOES in its Spanish acronym) and private security guards from private group Securitas, entered the property tearing down fences and dismantling her home. In August that year, the same agents beat Máxima and her daughter unconscious and threatened Máxima's husband at gun point as well as severely beating her son. Despite the gravity of these actions, local police refused to attend Máxima when she attempted to report these events.
In 2012, the company filed charges against the Chaupe family for illegal occupation. For two years, Máxima and her family were forced to attend court hearings several kilometres from her home, and in the meantime suffered daily threats and intimidation on behalf of Yanacocha and its security. In total, over 21 security incidents against the family have been recorded throughout the two years of the Court case. Those included attempted evictions, surveillance, threats, assaults and grievous bodily harm, destruction of property, including arson (database of incidents available here). On the 17th December 2014, following an appeal made by the family's lawyers, the Criminal Chamber of Appeals for the Superior Court of Justice of Cajamarca acquitted Máxima of allegations of "illegal occupation", overturning a previous resolution that order her resettlement.
Box 1: Yanacocha Mining Company Vs. the Chaupe-Acuña Family over Disputed Territory, Tragadero Grande
Despite the ruling in favour of Máxima and her family, targeted attacks and threats resumed as of January 2015. As well as being unlawful, the nature of incidents perpetrated against Ms. Chaupe are evident threats to her traditional way of life and subsistence. They also constitute arbitrary interference with their home, privacy and family as well as arbitrary destruction and demolition of their home.
How does LAMMP support Máxima and her family?
Like many rural and indigenous women human rights defenders and activists, Máxima lives in impoverished conditions, and lacks a number of key financial and material resources, which means that the Court case and ongoing attacks put her entire survival and livelihood under strain. Throughout its programmes, LAMMP aims to take these important factors into account in designing a protection strategy to support Máxima. The plan also aims to provide Máxima and her family with the necessary tools to empower them in their campaign for justice for the harm caused by the mining company.
The protection plan addressed Máxima's distinct challenges by:
1. Identifying both the physical and psychological impacts of the legal dispute with Yanacocha, inflicted upon Máxima, her husband and children. As such, LAMMP provides financial support for medical and counselling expenses.
2. Recognising the costs for attending Court hearings and meetings with lawyers, LAMMP also ensured financial support for transport and accommodation;
3. Providing Máxima and her family with technical and material resources to document and monitor security incidents perpetrated by Yanacocha, DINOES and pro-mining members of the community
4. Accompanying Máxima when situations were at their most critical with the help of other women human rights defenders, members of the regional network Red ULAM;
5. Creating links with local, national, regional and international civil society organisations partly through a social media campaign "Máxima no está sola" (#Maximanoestasolaon Twitter) raising awareness of Máxima's struggle
6. Engaging with key human rights institutions and organisations such as the UN Working Group on the issue of human rights and transnational corporations and other business enterprises, as well as the UN Special Rapporteur on the situation of human rights defenders, by submitting allegation letters, reports and urgent actions highlighting security incidents targeting the family;
LAMMP commission a video testimony in which Máxima and her family describe their hardship. Her story is available here. In turn, this campaign has successfully fostered widespread solidarity both in South and North America, as well as in Europe, projecting her as a symbol of indigenous and rural peoples' struggle to defend their land, territories and resources.
To find ways to support Máxima, please contact [email protected] and follow her on Facebook.
Related Links:
Allegation letter for Maxima Acuna de Chaupe February 2016
Urgent Action for Maxima February 2016
Letter to the signatories of the Voluntary Principles Sept 2014

Submission to the UN Commission on the status of women -July 2014