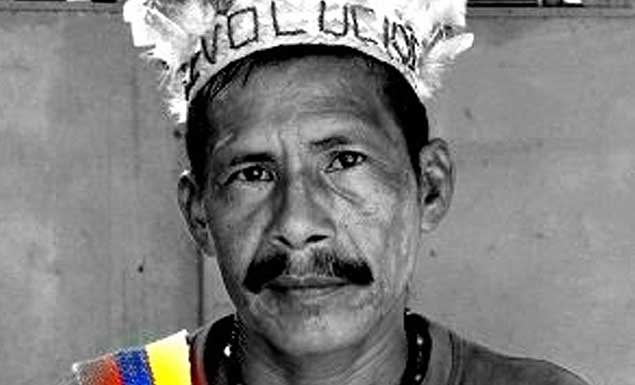 London-18th August 2015
Last Friday marked a unique moment of celebration and a victory for the indigenous Yukpa people in Venezuela, as the man responsible for the killing of their leader, Sabino Romero, was sentenced to 30 years in prison. The ruling comes two years after Romero's death, amidst an intense struggle against impunity and injustice.
Venezuela's failure to recognise the Rights of Indigenous Peoples
The Yukpa are among the 28 groups of indigenous peoples of Venezuela. They largely inhabit the Sierra de Perijá, in the state of Zulia bordering with Colombia. For years, the Yukpa have been fighting for the recognition of their land rights and rights as indigenous peoples. In 2009, the late president Hugo Chavez had promised to demarcate indigenous peoples' land, granting them ownership and sovereignty of their ancestral grounds. After Chavez' death, this pledge was taken over by his successor president Nicolas Maduro.
Years later, little has changed for the Yukpa who saw their lands encroached by cattle ranchers and invaded by paramilitary and soldiers from the Fuerza Armada Revolucionaria Colombiana (FARC) crossing the borders onto their territories. Moreover, in a move that fundamentally contradicts its own promise, in February 2015 through the Presidential Decree 1606 the Venezuelan government increased the area dedicated to coal mining in the state of Zulia from 7.250 hectares to 24.192. The expansion will have a tremendous impact on both the Yuka people and their ancestral land, displacing Yukpa communities. Plans for expansion were not presented to indigenous people, nor were they consulted.
Understanding the threat this represented to their rights to a safe environment, clean water and to self-determination more broadly, Cacique Sabino Romero and his people took action in defence of their human rights, challenging the government's lack of political will to fulfil its promise.
Cacique Sabino Romero and the Yukpa struggle to defende their territory
The Yukpa peoples' struggle for recognition of their human and indigenous peoples' rights illustrates the impunity and corruption that reigns over land and resource extraction policies in Venezuela. More so, it is one that is deadly and in which human rights violations have become the norm.
In the course of 2012, prior to Romero's killing, seven Yukpa activists were murdered and many more were injured. Yet none of these attacks were investigated by public authorities despite constant appeals from the Yukpa people, national and international civil society supporting them.
On the other hand, Yukpa activists have endured first-hand repression and criminalisation for demanding justice. The experiences of Cacique Sabino Romero are an example of the widespread and normalised persecution of indigenous leaders and activists in Venezuela: Romero was imprisoned between 2009 and 2011 for his supposed role in the murder of two Yukpa people. His imprisonment was challenged as unlawful and accusations as groundless and Romero was eventually released.
After a series of death threats and attacks against him and his family, Cacique Sabino Romero was murdered on 3d March 2013. As he was travelling on his motorbike from a community meeting, two men intercepted his vehicle firing shots point blank into it. At the time, Romero's wife Lucia was also in the vehicle and was injured.
Impunity and the endless appeals for Justice
Following the death of Cacique Sabino Romero, Yukpa people made endless appeals for justice, and to prosecute those responsible for the killing. In response, they have received death threats and physical abuse from public authorities, mine workers and anonymous individuals.
Professor Lusbi Portillo of the local NGO Homo et Natura, has long supported the Yukpa in their mission to bring justice to their leader. Because of his involvement denouncing the blatant impunity of Romero's death, he has been the target of intimidations and subject to a smear campaign accusing him of working on behalf foreign institutions, "enemies of the State" such as the CIA. For Pr. Portillo, the Yukpa were facing important risks: "there is a death squad formed by the National Guard, the bodyguards of ranch owners and hired assassins who plan to remove the Yukpa from the land for good".
Also advocating for justice, the women from Sabino Romero's family were particularly active demanding for the prosecution of those perpetrating crimes against their people. Romero's cousin Carmen Fernandez, his wife Lucía and his daughter Zeinada have all faced threats against their personal safety and their lives. However, the government of Venezuela has repeatedly failed to acknowledge the risks these women defenders faced, and to provide them with adequate protective measures.
Court Ruling: a small step forward
After years of uncertainty, the Court finally judged in favour of the Yukpa's demands and sentenced Sabino Romero's killer to 30 years in jail. The verdict was widely celebrated across the State of Zulia, among the Yukpa communities as it represents a first victory towards justice.
Yet, the struggle of the Yukpa for the recognition of their rights does not end here. Despite their constant demands, the government has yet to grant them with the legal entitlement of their land. Until this happens, Yukpa people and their leaders will continue to experience attacks and threats and will be unable to protect their ancestral grounds from mining activities and other intrusive projects.