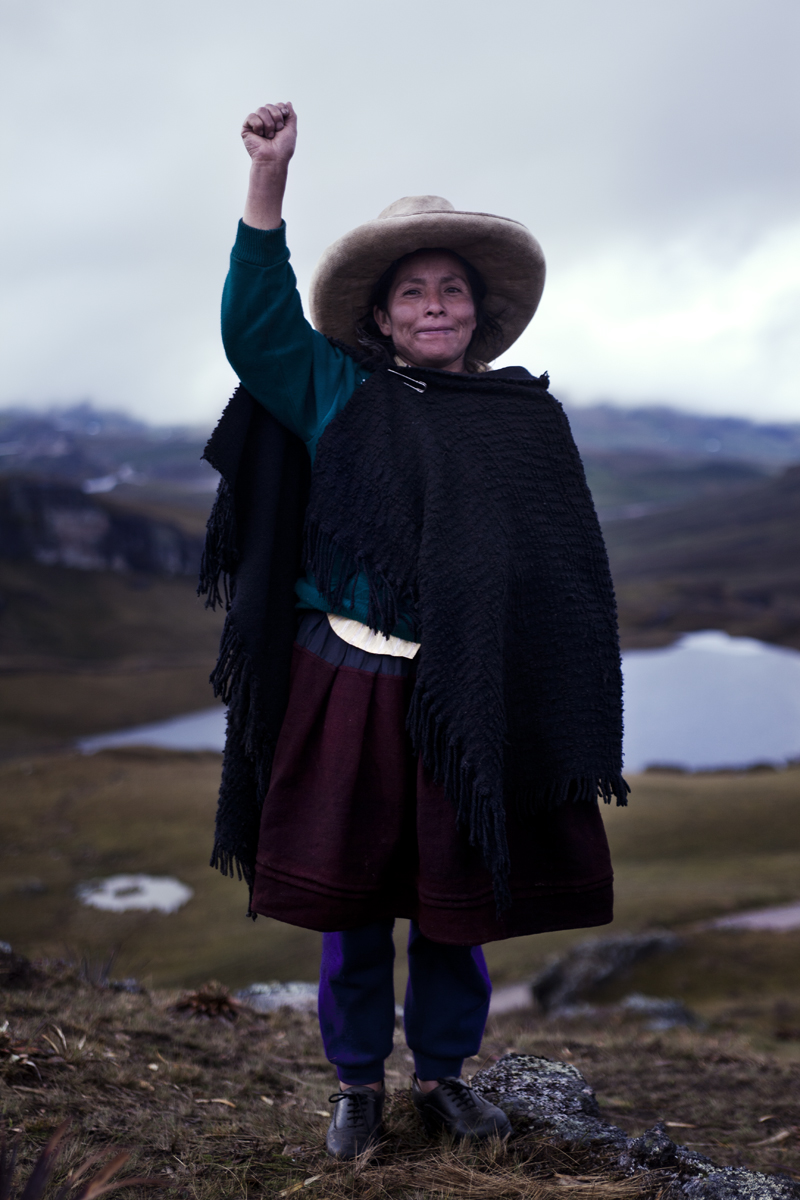 Who would have thought that a shy, 4 ½  feet tall peasant woman could challenge so enduringly a mighty transnational corporation?
Over the last 4 years, Máxima Acuña de Chaupe has led her peaceful struggle against US-based Newmont Mining Corporation and its Peruvian subsidiary Yanacocha. By doing so, she is also defying a deeply entrenched system of impunity and injustice that afflicting communities and activists engaged in the ongoing conflicts over resources in Peru.
In 2011 when she was first accused of illegal occupation by the mining company, Máxima's future seemed bleak and impossible: what could she do as an illiterate woman without resources do to claim her rights?
Since then, Máxima went in and out of Court rooms, armed only with her own land deeds and determination to attain justice.
In the meantime, mine workers and security staff from Yanacocha harassed, intimidate her and invaded her house to harm her and her family. Shamelessly destroying her property, killing her animals and violently beating her children as they attempted to record the events and protect themselves.
Finally, the evidence supporting her ownership was recognised three years later in December 2014, when she was absolved from all criminal charges set up against her. In her usual soft voice, Máxima thanked her supporters, the judges and celebrated that justice had finally been done.
Unfortunately, victory was short-lived as a few weeks later, targeted attacks against her resumed. Most recently in February, Yanacocha workers and security entered her land once again to destroy the house she was building.
In the face of this, suffering countless abuses by both the company and the Peruvian state, Máxima still stands strong.
Her fight has brought together a significant amount of attention, and built on national and international solidarity.
Type her name into , and you'll be amazed by what she represents to people in Peru and around the world: hope, courage and a symbol for the global fight for indigenous and rural people in the face of rampant extractivism at David and Goliath-esque proportions.
Máxima's struggle is also that of the indigenous and rural peoples of Peru, and of Latin America who are being forced off their lands to give way to large-scale development projects, who fail to be heard by their government, despite the ongoing calls to protect Mother Earth and defend Human Rights.
And finally, it is also a woman's struggle, defying the status quo that confines rural women to the household, with no opportunity to defend their rights.
This is why, this year on the 8th March for International Women's Day we celebrate Máxima's achievements, her strength and her courage.
As well as a day of celebration, we also want to reflect on the challenges that persist and on ways to support Máxima as well as other countless Women Human Rights Defenders in their endless struggle for Justice in the context of the extractive industry.