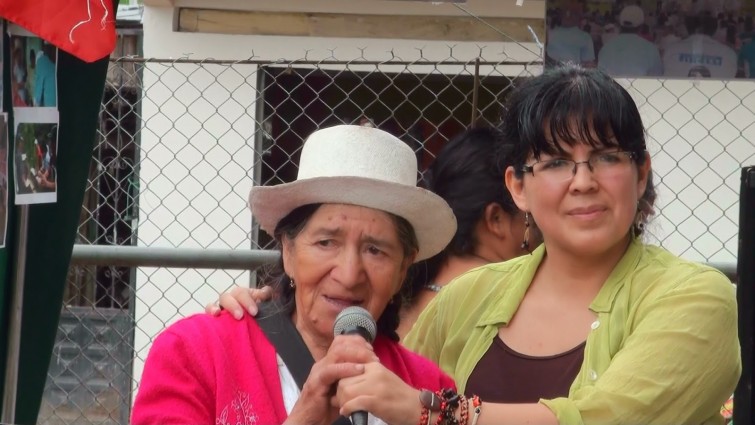 London, 15 May 2015
Lina Solano is the president of the Frente de Mujeres Defensoras de la Pachamama, and the coordinator of the all-women network Union Latino Americana de Mujeres (ULAM). Both groups are driving forces for women human rights defenders (WHRD) across Latin America who are being criminalized and persecuted for resisting predatory extractivism in their territories.
Last week, Lina travelled from Cuenca to Brussels to raise awareness among Members of the European Parliament (MEPs) about the human rights crisis in Latin American mining zones, fragmenting land-based communities and putting the lives of activists at risk.
Throughout her meetings with the MEPs, Lina highlighted the following:
On the lack of gender perspective
Among rural and indigenous communities in Latin America, women seldom have the right to land due to customary tenure laws. As a result, they are invariably excluded from consultation processes or from reparation schemes. Despite this unequal dynamic, land-based women from these areas are the principal providers for food and water in the household, and the main carers for their families and relatives.
Given this backdrop, Lina signalled the disproportionate impact of mining activities on rural and indigenous women's livelihoods, their status among communities, and their rights. In her conversations with the MEPs, Lina called for a stronger gendered perspective in policy attempts to mitigate the human rights impacts of resource activities.
On mining conflicts and the human rights crisis in Latin American mining
At a time when negotiations are brewing on the EU's role in regulating the trade of minerals originating in Conflict and High Risk areas, Lina pointed out on the deteriorating human rights situation in most mining regions of Latin America.
Lina Solano discussed her own struggle in Ecuador: deploring the fact that her fellow WHRD, many of whom are elderly women from rural and indigenous communities, were arrested on groundless charges of "organised terrorism".
She also brought to the MEPs attention the ongoing criminalisation and persecution of human rights defenders, the murders and attacks of community members, and the strong military presence in mining areas inhibiting people's freedoms and human rights.
Finally, Lina highlighted the situation of Máxima Acuña from Peru who has been suffering from violent forced eviction attempts by a mining company since 2011, as well as attacks and a virulent smear campaign against her and her family members (More on Maxima here).
In doing so, Lina demonstrated the direct link between mineral extraction, the deterioration of human rights and the growing conflicts between communities, States and mining companies.
- European Union (EU) and Ecuador Trade Agreements
In 2014, Ecuador re-entered the negotiations table on trade between the EU and countries from the Andean community. A year later, conditions and provisions are being discussed to figure within the bilateral Free Trade Agreement (FTA) between Ecuador and the EU. The implications of these negotiations are significant, as the EU is increasingly integrating human rights and sustainability within chapters of its agreements with non-EU partner states.
As a WHRD from Ecuador, Lina advocated for explicit human rights references in the Ecuador-EU FTA. To support her appeal, Lina highlighted the lack of community consultation, the repression of civil society and activists as well as the police brutality inflicted upon communities in mining areas of the Andean country.
For Lina and other environment and human rights defenders, the situation is urgent: in recent years, Ecuador's President, Rafael Correa, has opened the door to foreign investments and development projects. This includes providing Chinese companies important mining concessions, without the prior consent of affected communities.
The FTA represents a glimmer of hope in which Ecuador may be encouraged to abide by international human rights law in order to continue its trade relationships with the EU.
What's Next?
Responses from the MEPs varied; whereas most were supportive of the needs to strengthen accountability mechanisms for corporate human rights violations, and transparency in the mineral supply chain, they also highlighted the challenges within the European Parliament to implement these efforts.
A few important dates to remember that will significantly influence the EU's relationship with its trading partners in Latin America:
19-20 May, Strasbourg: MEPs will debate and vote for the EU proposal to regulate the supply chain of minerals originating from Conflict and High Risk Areas. Read LAMMP's statement here.
2-5 June, Brussels: Eight Ordinary Plenary Assembly of the Euro-Latin American Parliamentary Assembly, in which EU and and Latin American leaders will review challenges and opportunities to strengthen key areas of work, find out more on its agenda and participants here.
10-11 June, Brussels: EU-CELAC summit, which brings together European, Latin American and Caribbean leaders in a fora for dialogue and cooperations between states and regions. Find out more here.
El Frente de Mujeres Defensoras de la Pachamama
Website: www.defensoraspachamama.blogspot.co.uk 
Like El Frente de Mujeres Defensoras de la Pachamama on Facebook
Or follow them on Twitter: @DefensorasPacha
Red ULAM
Website: www.redulam.org
Become Friend on Facebook

Or Follow on Twitter: @RedULAM
You can also join LAMMP on Facebook and Twitter @infoLAMMP